Crisp
Each font is meticulously hinted and contains an average of 47KB of hand crafted TrueType bytecode for the crispest possible rendering via strong grid fitting. Super high DPI displays are nice but there are still many older systems that benefit greatly from hinting. Autohinting software is improving all the time, but still seems to have problems with things like strokes changing thickness between some characters, characters that are nearly symmetrical (e.g., "m") becoming asymmetrical, lengths that should be equal becoming unequal (e.g., the arms of the plus sign), etc. Hand hinting gives complete control over this.
Small sizes. For packing as much code onto a screen as possible, the hinting supports legible rendering at sizes as small as 5×11 pixels (including spacing and line leading):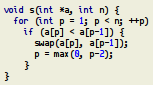 Aliased rendering. If the combination of antialiasing with full hinting isn't crisp enough (or one simply likes pixel fonts), the upright regular and bold variants are superhinted for pleasant aliased rendering at their smaller sizes: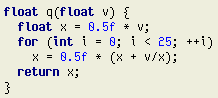 Cross platform. The fonts are designed to render as crisply as possible on FreeType, Windows, and OS X systems. The hints include special logic to reduce some of the fuzziness that Cleartype on Windows can introduce. For OS X, which normally ignores hints when antialiasing, a set of fonts "pre-hinted" for various sizes is provided. When correctly matched to the font size the result should be as crisp as any other platform. These may also be useful for reducing moiré effects from sub-pixel positioning in DirectWrite on Windows.